Taxi Colours From Around The World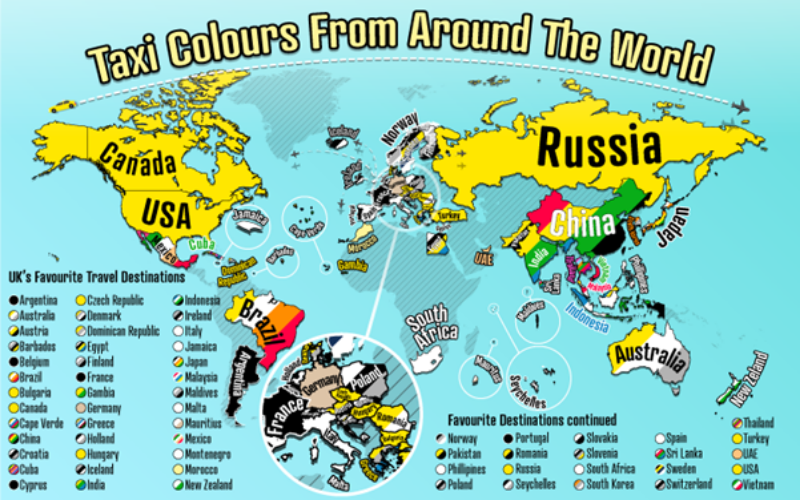 With everyone constantly checking the green list or scrambling to book travel plans for 2022, Brits sure are desperate for a holiday.
And while sunbathing, sandcastles and sangria are at the top of your mind, you still need to understand the 'new normal' of travelling to stay safe. Many people, for example, will be wanting to avoid public transport, where possible, and explore new locales in cabs and taxis.
But how will you recognise licensed taxis while travelling? Very few tourist destinations share the same taxi colour coding as the UK and many tourist boards struggle to provide helpful answers.
Don't worry though, we've got you covered. Here at The Taxi Centre, we identified the most popular holiday destinations for Brits (Finder and TUI), and their most common taxi colours (via Wikipedia and respective tourist sites) to save you some important planning time.
Continue reading, below, to start your holiday prep like a pro!
Disclaimer: Not all countries in each continent have been picked for our research. That's because our data is only representative of the most visited travel destinations by Brits.
Table of Contents
2. Common Taxi Colours in Holiday Destinations
3. Common Taxi Colours in Europe
4. Common Taxi Colours in Asia
5. Common Taxi Colours in North America
6. Common Taxi Colours in South America
7. Common Taxi Colours in Africa
8. Common Taxi Colours in Oceania
9. Most Diverse Taxi Colour Schemes
What are the most common taxi colours globally?
Of all the popular holiday destinations, white is the most common taxi colour around the globe (73.3%). Yellow (53.3.%) and black (48.3%) are the next most popular, featuring predominantly in Europe and Asia. Purple (3.3%) and pink (5%) are the rarest but can both be found colouring the cities of Havana and Thailand, making for surreal photo opportunities.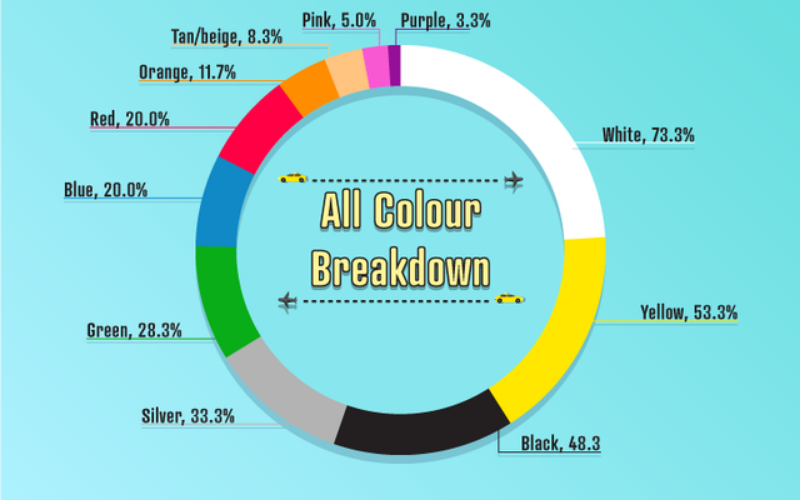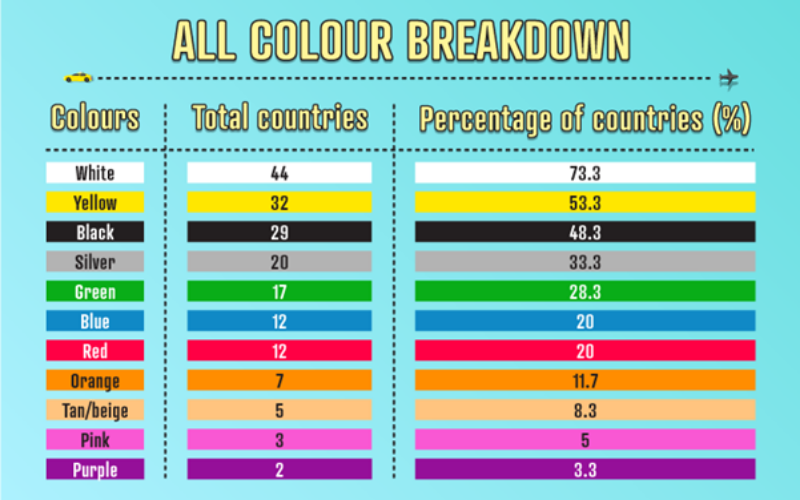 When we consider primary taxi colours (colours that cover the majority of the vehicle), white and yellow still reign supreme, collectively making up 63% of the total share of global hues. Yellow also stands out as the most popular colour in countries that only have one national taxi colour.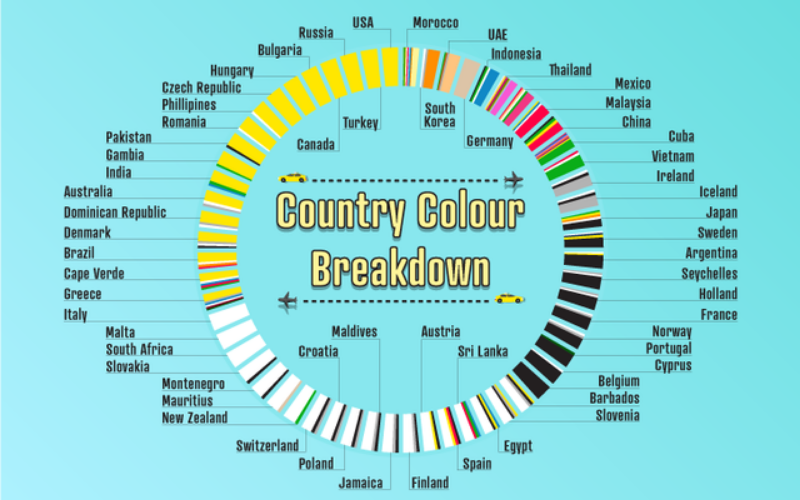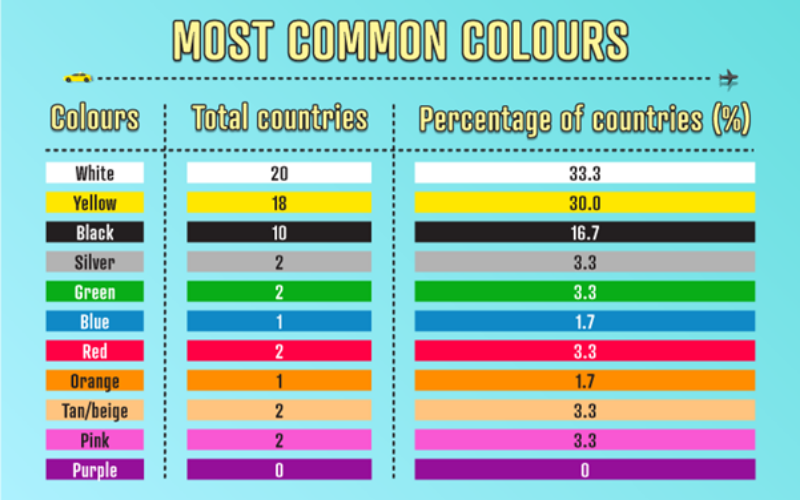 But why are white, yellow and black cabs so common in so many different countries?
White and black taxi colours are internationally recognised as reliable and trustworthy. But when it comes to yellow, this palette is often chosen intentionally so that it stands out from the hubbub of road traffic. (The most common colours of residential cars are white, black, grey, and silver).
So, whether you're a tourist or a resident, you can easily recognise taxis on the street and flag them down for a ride.
What are the most common taxi colours in popular holiday destinations?
While white, yellow, and black are the most common across the globe, tourists will find subtle colour differences from continent to continent.
Note: the colours plotted here are the 'primary taxi colours' only. This means there are usually more possible taxi colours but these are the most frequently occurring in their countries.
Most common taxi colours in Europe
European taxis generally adhere to the standard yellow, black and white, although there are some notable exceptions. The most common taxi colour in Iceland and Ireland, for instance, is silver, whereas German cabs opt for the more neutral tones of beige.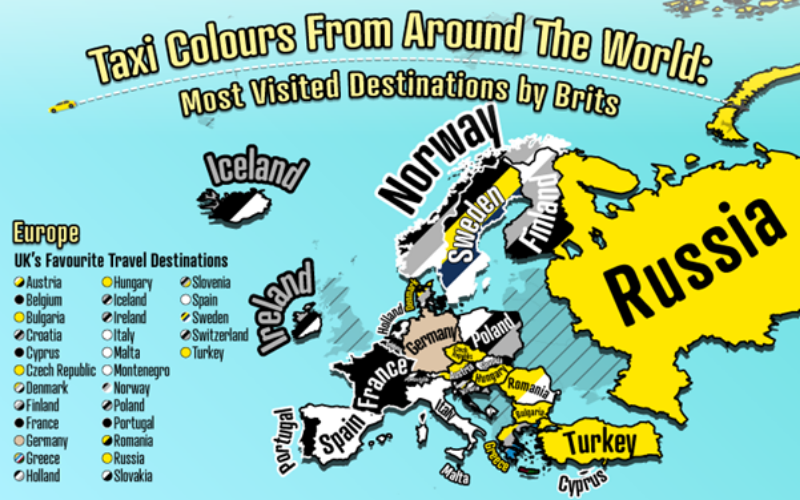 Most common taxi colours in Asia
Asia, on the other hand prefer colourful blues, greens and pinks on their taxis' livery. The further south you travel (Indonesia, Malaysia, Thailand, Vietnam), the more chance you have of hailing a fluorescent cab. These smaller countries certainly have a much more playful taxi palette than their larger neighbours, such as Russia and China, who prefer more standardised yellow and red.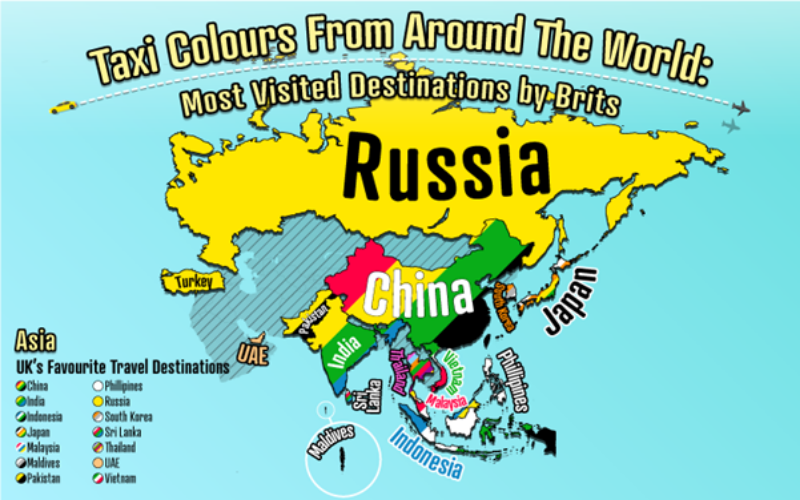 Most common taxi colours in North America
North America follows a similar colour palette to Europe. However, there is a lot of taxi colour diversity in the warmer, more southern North American countries. Mexico and Cuba's cabs are enrobed in bright pink and green, for instance; colours that aid in highlighting their rich and exotic landscapes.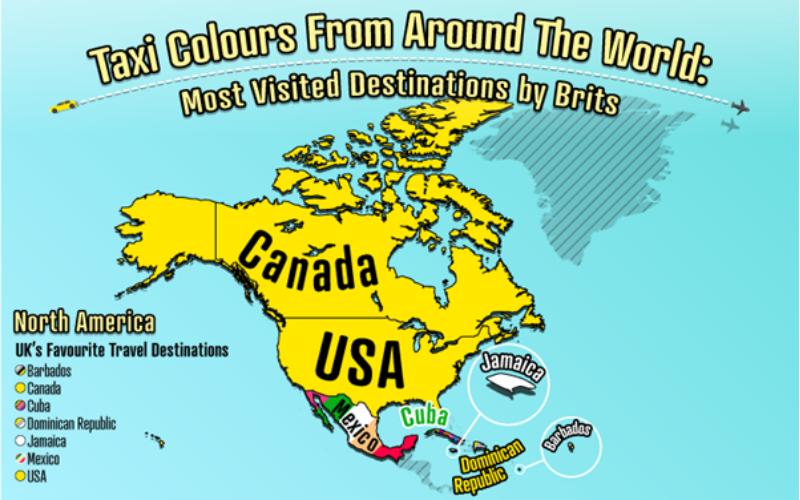 Most common taxi colours in South America
South America generally does not continue the exotic taxi tones of Central America. Argentina, in particular, follows the standard global trend, featuring black, yellow and white cabs. Similarly, Brazil's primary taxi colour is yellow, although there are some more vibrant orange and red cabs to keep an eye out for.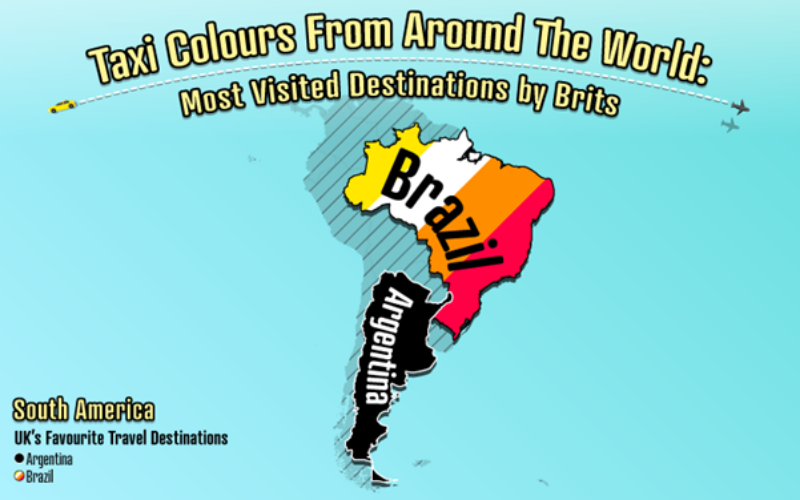 Most common taxi colours in Africa
No doubt due to the scorching temperatures, the most common taxi colours in Africa are all pale and bright, most likely to better reflect the heat of the sun. The only exception is Seychelles, which mainly operates black cabs – although there are the less common but cooler options of white and silver available for hire, too.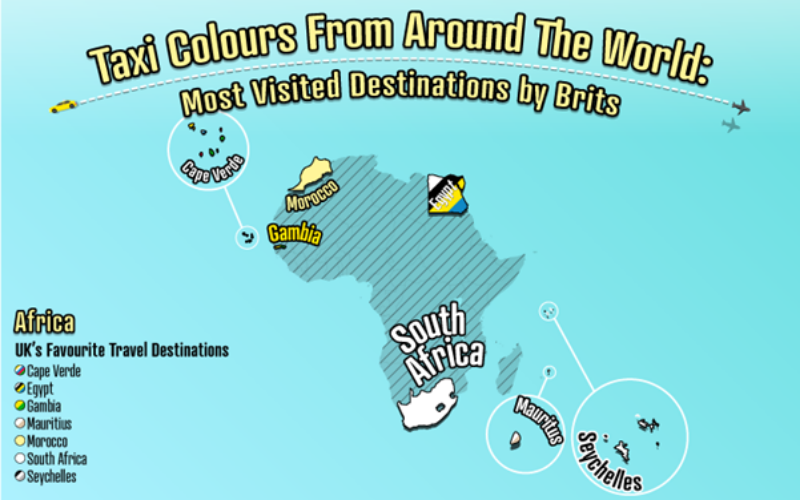 Most common taxi colours in Oceania
In Oceania, taxi pigment perennials white and yellow dominate Australian and New Zealand cab companies. You can still hail some kaleidoscopic taxi colours, however, should you spot them in the wild. New Zealand, for example, also offers green taxis, whereas silver cabs operate in Australia (they are just less common than their yellow and white brethren).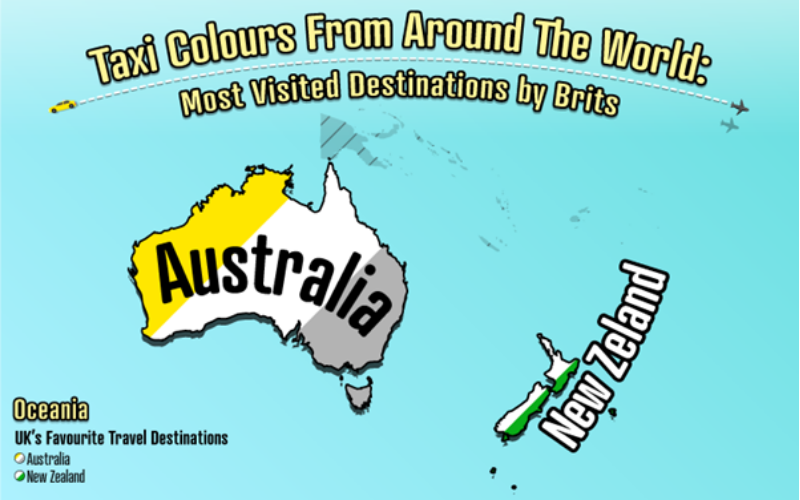 Which countries have the most diverse taxi colour schemes?
Finding a taxi in a foreign country is all well and good when you're only looking out for one or two hues – what if your holiday destination contains a kaleidoscope of cab colours?
That's certainly the case in Morocco and Thailand, which have the most diverse taxi colour schemes of all the UK's favourite destinations. Greece's taxi fleets feature no less than six hues, including yellow, silver, blue, dark green and dark red.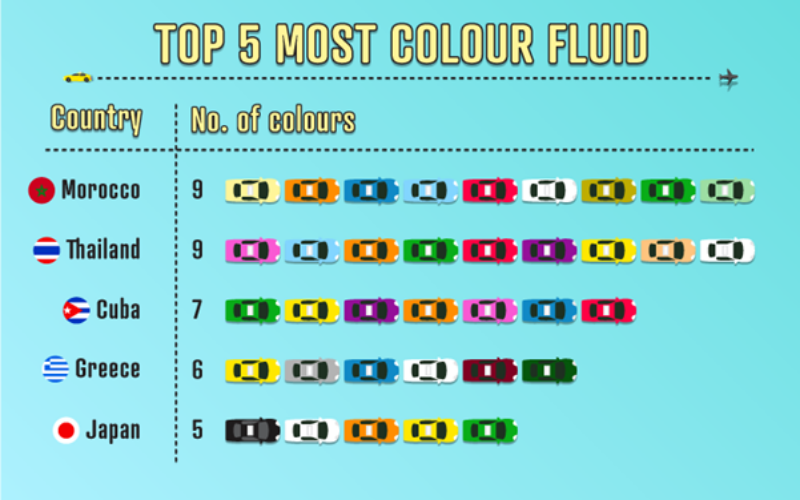 There are still those countries to visit that only feature one standardised taxi colour, however. This makes destinations, such as Turkey, USA and the Czech Republic, so satisfyingly simple to navigate as you only need to keep your eyes peeled for yellow on the streets.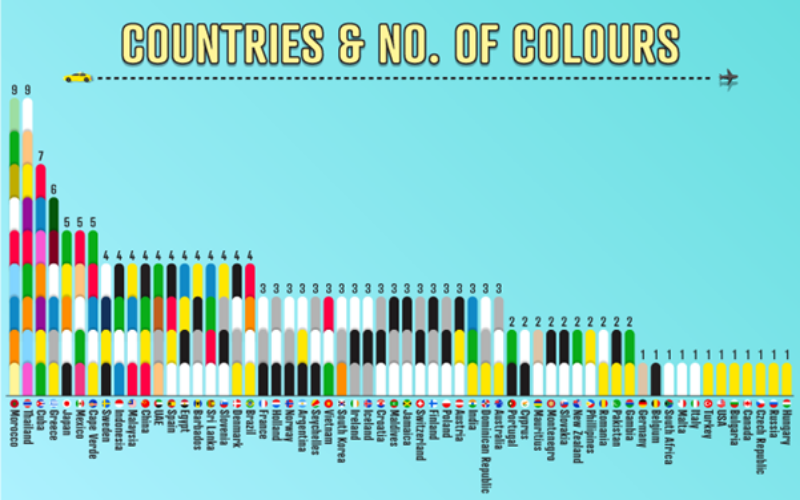 Interestingly, the only time you will chance upon a vibrant taxi tone, like pink and purple, is when that country has an extraordinarily diverse taxi colour scheme, such as Mexico or Cape Verde. In other words, you will rarely find just pink or just purple taxi cabs at your destination; there are always more standard colours on the roster.
As for the nations with only one or two taxi colours, they are generally happy to stick with the tried and tested yellow, white and black.
Taxi travel abroad: top tips
So, how do you safely navigate these oft-confusing colour schemes? Take a look at our taxi top tips, below!
1. Be vigilant
- Always look out for cabs that have a metre, a radio and a badge on display (this should indicate that the driver has a taxi licence).
2. Try to book taxis in advance from reputable firms
- Your hotel should usually manage this for you if you're going to and from your accommodation. If you have no other option but to hail a cab (perhaps you're in an area with no phone service) then always check the advice above (metre, radio, and badge) before getting inside the taxi to be safe.
3. Research local taxi fares before travelling
- To double down on your efforts, agree upon a price before getting in the cab. In some countries, you will find pre-paid taxi stands at the airport to help first-time tourists avoid paying over the odds for cab fares.
Of course, not everyone has plans to jet off to sunny locales this summer. Instead, many Brits are planning their summer staycations – and they still need safe and dependable taxi services to get around!
So no matter where you're are a taxi driver, customers want reliable vehicles, browse our collection of new taxis at The Taxi Centre and discover electric and hybrid taxis, LEVC taxis as well as top manufacturers including Skoda, Hyundai, KIA and Volkswagen.